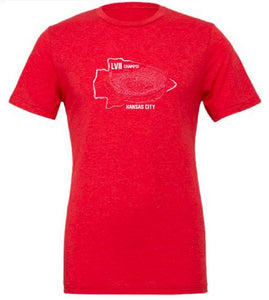 Arrowhead Stadium, Home of the Kansas City Football the LVII 2023 Champions, Stipple Art Shirt
Regular price $30.00 $30.00 Sale
Congratulations Kansas City! LVII Champions!
This championship shirt features our stipple art of Arrowhead Stadium, home of Kansas City football.
D E S C R I P T I O N
---SHIRT: Red print of original stipple drawing of Arrowhead Stadium screen printed on a oatmeal triblend Canvas brand shirt.
---STIPPLE ART: The original drawing is created by hand using a stippling technique, where a series of dots are used to generate an image by varying the size of the dots & distance between them. The drawing was originally hand drawn with ink on paper, scanned in digitally, and screen printed onto a shirt.